April to June 2014
27th June 2014
CHEQUE WILL HELP FUND WORK AT NEW COMMUNITY CENTRE
After providing muscle power to help with a clear-up at the new Standbridge Lane Community Centre at Kettlethorpe a few weeks ago, the club has now given £200 to the centre's governing Community Development Trust.
A cheque was handed over by the club's community services chairman, Neale Clark, to chairman Oshione Ekpeh and other trust members who included Coun Monica Graham, one of the driving forces behind the establishment of the centre at the former primary school.
Our picture shows Neale presenting the cheque to Oshione and Monica, watched by trust members Joan Haywood, Maureen Mortimer and Coun David Hopkins, with Natalie Roberts, representing the Guardians Boxing Club which uses the centre. The money will go towards the cost of new toilets for the disabled.

19th June 2014
PROMOTING ROTARY ON SOCIAL MEDIA
Rotarian Melissa Tomlinson, who runs the club's Twitter account, talked tonight about social media and the part it can play in promoting Rotary.

She used a series of screen grabs to show members, not all of whom are equally familiar with the internet, how they could set up their own Facebook or Twitter accounts to follow what's being said on their behalf.
To illustrate the power of social media she highlighted the #nomakeupselfie Twitter campaign which recently raised £8 million for Cancer Research UK and Stephen's Story on Facebook and other sites which resulted in Stephen Sutton raising many millions of pounds to aid the Teenage Cancer Trust

On the same evening veteran Rotarian Richard Taylor was surprised by the honour of being made a PAUL HARRIS FELLOW for decades of work in promoting awareness of the club's work in the press and more recently on social media sites.
The photograph shows the presentation by club president Nick Castle.


29th May 2014
SIR RODNEY'S TOUR DE FRANCE WARM-UP
Sir Rodney Walker on Thursday had what he described as a 'warm up' for London's
Olympic Park three days later when he would be speaking to thousands of Tour Makers, the volunteers who will be helping to make the Tour de France a memorable event for the UK.
Sir Rodney is chairman of the company organising the three stages of the tour in this country and he was due to talk to 5,500 Tour Makers helping with the Cambridge-London leg of the event.
He spoke to the club about the Tour and had the chance to meet Rotarian Melissa Tomlinson, one of the Tour Makers on the two stages taking place in Yorkshire on July 5 and 6. Melissa said: "It was great to meet him and I'm really excited about being involved."
Sir Rodney has a budget of £10million for the Grand Depart in Yorkshire, although the total cost of the Tour in the UK will be £27million. He said: "We'll showcase Yorkshire to a world-wide audience in a way it's never been showcased before," he said.
It will be seen by 1.6 billion people in 200 countries, while more than a million will be watching along the route in Yorkshire. "The amount of interest in this event is phenomenal," said Sir Rodney. He handed out copies of the Grand Depart spectator guide, published only a couple of days earlier.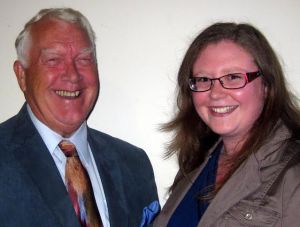 22nd May 2014
WHAT GOES UP MUST COME DOWN...

When Marshall Chamberlain did his National Service in the RAF in the 1950s they tried to train him as a pilot on a Tiger Moth biplane but he had one big weakness. "I was fine taking off and I knew what to do once I was in the air but I could never get the landings right," he said. So the RAF decided to teach him to become a navigator instead. "I was very lucky," said Marshall, "They sent me to Canada to do my training."

He told his story when it came to his turn to give his 'My Life and Times' talk to the club. After National Service he could have signed up for a permanent commission but in the end opted to return to the trusts department of the Midland Bank, taking early retirement in 1989, although he was employed as a consultant for a further four years, working in Sheffield. He then became involved with the blood cancer and bone marrow transplant charity, the Anthony Nolan Trust.

"Anthony's mother, Shirley, was born in Castleford and she is a truly inspiration figure," said Marshall, who is pictured below.



15th May 2014
LOOKING FORWARD TO A GREAT YEAR!
Tonight's annual Club Assembly, chaired by president-elect Stuart Livesey, showed what a crowded programme we have for the next Rotary year, which starts on July 1.
Committee chairmen presented their plans for 2014-15. Stuart commernted: "It shows just how much hard work is done in the club for both the local community and overseas causes."
Assistant district governor-elect John Atkinson, treasurer of the Normanton club, wished the club a successful year. Our photo shows him on the left with club secretary Sheila Wainwright and president Nick Castle.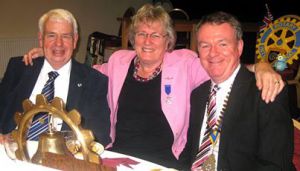 1st May 2014
A TOKEN OF THEIR APPRECIATION...
Wakefield Rotary Club members have met for their weekly meetings and meals at the New Brookhouse Club on Barnsley Road for nearly six years and this week, as a mark of their appreciation, they presented a £50 gardening token to Gordon Ripley on his retirement from the management of the working men's club. He joined the Brookhouse club in 1963 and was on its committee for much of that time, the last 12 years as vice president. The token was handed over by Rotary president Nick Castle.
One of Gordon's duties was to act as liaison between Rotary and the club, and to be on the spot to supervise meals at Rotary's regular Thursday night meetings. Although Gordon has stepped down from the Brookhouse club's management team, he will remain a member and is still likely to be seen from time to time when he comes in to help out with meals.
Gordon said: "I've made so many good friends in Rotary and we've enjoyed a laugh and a joke together. It's been brilliant."
The New Brookhouse Club reopened on its present site in August 2008 and Rotary held its first meeting there the following month.
17the April 2014
ANNUAL GENERAL MEETING
ANOTHER good year with a string of successful local and international projects was reported on at the club's annual meeting on Thursday. These have been as diverse as the Christmas charity post, Young Chef competition, Shelter boxes for overseas disasters, the installation of Wakefield's first defibrillator for public use and mock interviews in city schools.
Detailed reports were given by club secretary Sheila Wainwright and committee chairmen Neale Clark (community), Ken Pinder (ways and means), Michael Townsend (international), Stuart Livesey (vocational), Philip Platts (youth opportunities), David Garforth (foundation), William Smith (membership) and Geoff North (communications).
It has already been agreed that club president for the next Rotary year, which begins on July 1, will be Stuart Livesey. Council members will be Neale Clark, William Smith, David Pickover, Roger Brown, Mary Peace and Sheila Wainwright. Committee chairmen will be: vocational, Martin Perry; international, Michael Townsend; community, Neale Clark; youth, Sue Muscroft; ways and means, Sheila Wainwright; foundation, David Garforth; membership, William Smith.