JANUARY TO MARCH 2016
25th February 2016
CHEQUE PRESENTED TO MUSIC COLLECTIVE
Wakefield Music Collective, founded in 1991, is a not-for-profit organisation run by volunteers to promote live, local music. Its chair, Kate Honeyman, who talked to us tonight, was delighted to go away with a cheque for £100 presented on members' behalf by club president, Michael Townsend.
Kate, who was accompanied by the Collective's secretary Rachel Winstanley, explained that they organise ten events each year, six of which are brass band concerts. The programme includes the Clarence Park Festival in July and other events showcasing young bands.
The Collective has taken over the once dilapidated Thornes Park bandstand, which remains in the ownership of Wakefield Council. The group refurbished the bandstand with grants of £50,000, plus a £10,000 contribution from the council. It is now the venue for a number of events organised by the Collective.
A vote of thanks was proposed by Stuart Livesey (extreme left in the photo).
The Collective is on Facebook and Twitter and has a website athttp://www.themusiccollective.co.uk
GROUP HANDS OVER £400 TO DEMENTIA CHARITY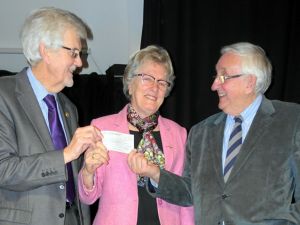 Art Group member Canon Roger Cressey (right), watched by our chairman Roger Brown, tonight handed a cheque for £400 to Sheila Wainwright, organiser of the fundraising campaign to get Wakefield its first dementia specialist Admiral Nurse, who took up his appointment last year.
The nurses, who are organised by the Dementia UK charity, work in a similar way to Macmillan nurses, but help victims of dementia and their families .
Artwork by group members has been published in the form of cards which are on sale for £1 each. A selection of these cards wason sale at tonight's meeting of Wakefield Rotary Club at the New Brookhouse Club, where this picture was taken. All three are members of the Rotary club which has supported Sheila's campaign. She now aims to fundraise to get the city its second Admiral Nurse
21st January 2016
BRADFORD IS ON THE WAY UP!
Bradford's biggest challenge is its image, businessman Paul Mackie admitted to club members tonight. But the former president of the city's Chamber of Commerce said: "Believe me, Bradford is going to fly over the next five years."
This was the upbeat message from a self-made man who now chairs a group of six companies after struggling with a difficult childhood and undiagnosed dyslexia. However, he found he had a natural talent for making money and
...
he started his first business with a school friend when he was just 13 years old.
After working in Saudi Arabia he studied for a BSc in Quantity Surveying at Leeds University. He joined Rex Proctor & Partners 24 years ago and now leads six different companies which together have 110 employees and £10m turnover.
Paul is involved in a number of organisations and activities benefiting business or young people and education in Bradford. He recently fought off prostate cancer and he has campaigned vigorously raising thousands of pounds to promote awareness among younger men of the need to have checks for the disease.
Rotarian Mary Peace proposed a vote of thanks