October to December 2014
27th November 2014
WITH nearly £3,800 already in the kitty, a coast-to-coast charity cycle ride by a cancer sufferer was taken a step closer to its £4,000 target when club president Stuart Livesey tonight handed over a cheque for £100
Mike Suggitt came to the club to talk about the challenge taken on by his partner, former woman police constable
Jill Hirst, who had been undergoing chemotherapy for malignant melanoma. Both are keen leisure cyclists and together they tackled the 140-mile week-long ride from Whitehaven to Sunderland, supported by friend Pete Fenlon.
The ride was made in aid of the Yorkshire Cancer Centre in the Bexley Wing at St James Hospital, Leeds, where the staff had provided wonderful support to Jill who is currently back in hospital but hoping to be home this weekend.
"Jill is someone who sets herself objectives," said Mike, "In April she's planning a mini triathlon and if she can't make it, I've promised I'll do it on her behalf."


Picture shows Mike (centre) with Stuart and (left) Roger Brown, who proposed the vote of thanks.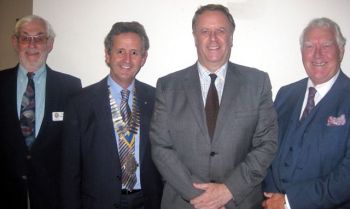 9th October 2014
WEST Yorkshire Police and Crime Commissioner Mark Burns-Williamson emphasised his local roots when he spoke to the club about his work and responsibilities. In a question and answer session he was asked about the consequences of the investigation into child sexual exploitation (CSE) in Rotherham and how this might affect our own communities.
He said tackling CSE was an important priority in his Police and Crime Plan and he had met with local councils and other agencies in West Yorkshire to ensure everything possible was being done to identify and prosecute sexual predators.
In his role as commissioner he has frequent contact with Whitehall and said that, despite their political differences, he thought that Theresa May was a good Home Secretary who compared well with others who had held the post. He said that he saw himself as a strategic administrator and facilitator and there was a clear line to be drawn between his responsibilities as a commissioner and the operational duties of the chief constable.
Honorary Rotarian Sir Rodney Walker was at the meeting and Mr Burns-Williamson said he welcomed the chance to meet Sir Rodney again because he was pleased to have worked with him this year on the cycle race that became known as the Tour de Yorkshire.
Our photo shows (from left) host John Hummerstone, who proposed a vote of thanks, club president Stuart Livesey, Mark Burns-Williamson and Sir Rodney Walker