OCTOBER TO DECEMBER 2015
29th October 2015
BIG ISSUE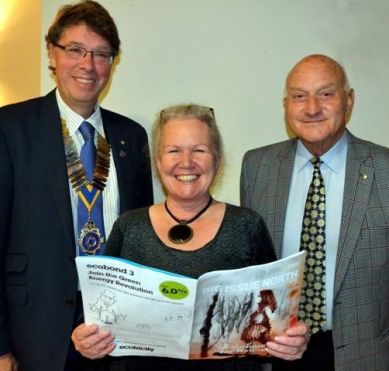 STREET vendors of Big Issue magazine are a familiar sight in many towns, but how many of us know how this team is run, who they are and what problems they face? Patricia Fas, north east regional manager for Big Issue North, came to the club tonight to explain.
The magazine was founded in 1991 to help the homeless and soon had a supplement for the North. In 1994 this became an independent publication leading to the launch of the Big Issue in the North Trust, which is based in Manchester. Patricia, who works from an office in Leeds, has 50 vendors in North and West Yorkshire, plus a further 22 in the Sheffield area.
She said: "Our sellers often have chaotic lives and face challenging circumstances but they are working, not begging. They buy the magazines from us and sell them on so they are self-employed. If you pay for a copy, please make sure you take it.
"Homelessness can affect anyone. It is indiscriminate where it might strike. Most of the time it's down to a relationship breakdown which might have a number of causes."
The trust helps people to move on with their lives. Patricia added: "By buying a magazine you're giving the person dignity, respect and purpose."
She warned that there are conmen who pose as vendors. They might push a rolled-up magazine towards a passer-by and after the money has been handed over then ask if they could keep the copy as it is their last. "Don't be fooled," she said.
A vote of thanks was proposed by John Harrison after a lengthy question and answer session. John is pictured (right) with Patricia and club president Michael Townsend.
For more information go to http://www.bigissuenorth.com/
22nd October 2015
ABOUT four months after an earthquake struck Nepal, former Kettlethorpe High School student, 18-year-old Matthew Hick, found himself as a volunteer in the beautiful city of Chitwan, helping in the physiotherapy department of a large hospital and at a centre for the disabled.
Matthew plans to become a physiotherapist and he went on a Projects Abroad special programme designed to provide an overview of physiotherapy in Nepal
– and some limited hands-on experience.
Introducing Matthew to the club on this evening, community service chairman Dr Neale Clark said the club had agreed to make a donation towards the cost of Matthew's participation because helping a young local person to become a physiotherapist was seen as a worthwhile contribution to the local community.
This was Matthew's first venture overseas and he recounted some of his experiences in Nepal. "It didn't just open my eyes to physiotherapy, it opened my eyes to the world in general," he said.
While with Projects Abroad, volunteers spend every day with the organisation's full-time professional staff. During the working week, volunteers roll up their sleeves with staff and work side-by-side. Then in the evenings the staff organise and supervise a programme of cultural activities and entertainment.
While in Nepal Matthew met and mixed with volunteers from all over the world engaged in a range of schemes in the wake of the earthquake. "Language was no problem – everyone spoke English," he said.
Matthew, who lives in Walton, went to Wakefield College for his A-levels and he has now applied to a number of universities to study physiotherapy.
A vote of thanks was proposed by another retired GP, Rotarian David Oughtibridge (left), pictured with Matthew, Rotary club president Michael Townsend and Dr Neale Clark.


1st October 2015


CASH AND BEARS HANDED OVER TO CHILDREN'S HOSPICE


It wasn't just a matter of handing over a cheque for £1,000 to Lisa Calvert, the Forget Me Not Children's Hospice's community fundraiser, after the club's recent sponsored Teddy Bear Parachute Jump.


Tonight she was also given Smitty - a bear donated by singer Jane McDonald - and Mini Trinny, from Wakefield's Trinity Shopping Centre. The hospice can now sell both of these to give funds an extra boost. There may also be further m
oney to come from sponsorship.


Lisa said: "A massive, massive thank you for such a briliiant effort."
She brought with her two other bears, Russell and Tom - both named after the hospice founder's sons. They proudly displayed the Certificates of Bravery which they received, like every bear that took part in the event.
Lisa (left front, with Smitty) is pictured with club president Michael Townsend and members of the parachute jump organising team, (from left) Ken Pinder, Peter Clarke, Sheila Wainwright, Geoff North and Neale Clark.