Amelia Quadeer fund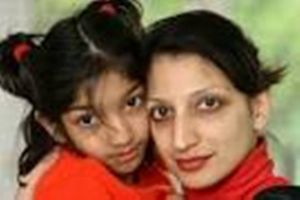 George Marsden, the chairman of the club's Community Service committee, launched an urgent appeal to raise £9,000 in two months at the club meeting on the 27th April 2017 so that a special bath could be installed at Amelia's home which was suitable for a child with her medical problems.
The Wakefield Express of the 22nd December 2017 carries the story of how the project was seen through to completion and how Amelia can now enjoy her bath time.
Photo courtesy of the Wakefield Express
Here is George's letter to fellow Rotarians:
URGENT APPEAL FOR LITTLE AMELIA
The Rotary Club of Wakefield is addressing an acute situation that requires urgent action. We are committed to raising £9000 before the end of July 2017 for Amelia, a severely handicapped six-year-old girl who lives in our community here in Wakefield.
Amelia has complex medical problems; she has been diagnosed with cerebral palsy affecting all four limbs; she is mainly tube fed, has visual impairment, wears nappies at all times, and has very limited speech. Amelia is shortly to undergo surgery in Leeds for a dislocated hip joint, which means that she will be in a plaster cast for at least the next six weeks.
Amelia's mother, Shabnam is a single parent and sadly, cannot count on any help whatsoever from her family; this is the reason we are involved in helping her succeed in this most difficult of challenges.
Shabnam is planning an adaptation of her home, which will be funded by Wakefield Council. The plan is to open up the ground floor of her home, to form a bedroom, recreational area and a wet room, all with ramped accesses. The wet room will have a ceiling track hoist fitted and a bath on a plinth.
Shabnam plans to go beyond just meeting Amelia's personal hygiene needs and ideally wants bathing facilities that also offer therapeutic benefits to enhance her little daughter's enjoyment of life. The Wakefield council grant cannot provide the special bath that Shabnam would like for her daughter, through the District Funding Grant process, nor can the NHS or the Martin House hospice provide financial help.
Shabnam has been working closely with the NHS and Martin House who have provided advice for her to obtain a quotation for the special whirlpool bath which is designed so that it can be raised and lowered. It also features a drop-down shower stretcher for drying purposes. The fact that the proposed special bath can be raised and lowered will enable Shabnam to bathe Amelia more effectively and also reduce personal risk to all carers. The quotation for this specialist bath is just short of the £9000.
If required, I can provide letters of support for Amelia's proposals from the NHS and Martin House hospice for children; I can also provide the quotation for the supply and installation of the bath from the specialist supplier.
Wakefield Council's offer of the grant for the building works has a pre-condition that Shabnam hands over to the council's contractor £9000 before the building works contract can be concluded and works can commence. The urgency to raise this money comes about because Wakefield Council's offer of a grant lapses on 1st August 2017, and there is no certainty that the grant can be renewed in view of current government cutbacks.
We are, therefore, leaving no stone unturned to raise the £9000 and I would ask you to consider this matter sympathetically in the hope that you could pledge a sum of money towards the fund for the specialist bath. No sum of money is too small. Shabnam will be very grateful indeed for whatever you feel you could contribute.
Shabnam is quite happy for any organisation or company that contributes to the fund to benefit from positive media publicity.
If you require any further information or wish to discuss the matter further, please contact myself, George Marsden on (07766) 259709 or by email at georgedmarsden@hotmail.com
In conclusion, thank you for taking time to read my letter and I do hope that you will be able to help me in my quest.
Yours sincerely,
George Marsden.