There is much more to see on our Facebook and Twitter pages. Please take a look.
The club has an account with JUST GIVING for those who prefer to give via this route
The Rotary Club of Wakefield held its first meeting on the 3rd June 1921. We are now in our 102nd year.
The photo shows Stuart Livesey, Presdent 2020-21, with copies of the booklet marking the club's centenary. Print and digital copies are available by writing via "Contact Us" (see above)
Rotary International has issued a statement on the conflict in Ukraine. Please take a look. Clubs in Yorkshire and Lincolnshire are in touch with contacts in Ukraine to determine how we can be of assistance. As a result of this an appeal has been launched which closes on 24th March 2022.. If any non-members see this and which to make a donation please contact the club via Contact Us above.
11th May 2022: Our Rotary District has so far received £78,900 from Rotary donations, £6,400 from Inner Wheel clubs and £5,200 from private donors. This is supplemented by unspecified donations which have been sent directly to local clubs in the Ukraine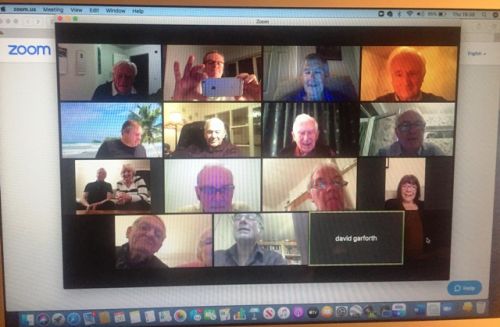 The Rotary Club of Wakefield has linked up with Unity Lottery. Please consider taking part if you are over 16. There are some large prizes to be won and half of all stakes are sent directly to our charitable trust fund. From £1 per week.
.



Please see FACEBOOK for details of our very varied guest speakers. To make enquiries about being able to hear them for yourself please follow this link.

Admiral Nurses increase their presence in the Wakefield area thanks to Rotarian Sheila

ENLARGING OUR MEMBERSHIP WITH A DIVERSE RANGE OF MEN AND WOMEN IS OUR CONSTANT AIM. WHY NOT CHECK OUT WHAT ROTARY INTERNATIONAL HAS TO OFFER YOU?
The club meets at 18:30 on Thursdays at Hotel St Pierre, 733 Barnsley Road, Newmillerdam, Wakefield WF2 6QG (about four miles south of the city centre on the A61). Tel: 01924 255596. For variations please see the PROGRAMME page. Occasionally we meet by Zoom to access speakers in other parts of the country or world.
Rotarian visitors are always welcome but it would be helpful if they could advise us of their attendance by the Monday of the same week. Please write via "Contact Us". .
There is no formal dress code although many male members wear a jacket and some wear a tie. Smart casual is perfectly acceptable. Members are asked not to wear jeans.
A map for most locations used can be seen by clicking on the venue name on the Programme page listing.
The club is in Rotary International District 1040 (Yorkshire,UK) Rotary International club number 1069
The Secretary or any other members can be contacted via the Contact Us facility
.

Founded in 1921, we have 33 members. Membership is open to both men and women.
E-mail can be sent via the CONTACT page to the Web Manager who will forward it to any member who is named in the message.

The Rotary Club of Wakefield Trust Fund is registered with the Charity Commission. Its number is 501456. Profits from public charitable fund raising activities of the Rotary Club of Wakefield are all passed to the Trust Fund prior to distribution.
The Rotary name and emblem are the official property of Rotary International and are being used on this web site with permission as outlined in the RI Policy on Electronic Communications.

Some of the Rotary images in these pages come from Rtn Tord Elfwendahl's Website and they can be used in any Rotary context, but please acknowledge the source. http://www.graphics-for-rotarians.org/


Our web site is maintained by Rotarian Ken Pinder. If you have any questions regarding this site please write via Contact Us.