Admiral Nurses
DISTRICT GETS ITS SECOND ADMIRAL NURSE - THANKS TO SHEILA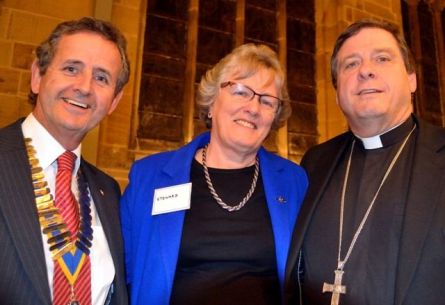 Admiral Nurses are named after Admiral Joe who died with dementia and whose family set up the Dementia UK charity to fund them so that they could support the carers of other people with dementia, much as Macmillan Nurses care for those with cancer.
Dementia UK has a Direct Help Line dedicated to this service, presently 10 hours a day and part weekends. It is hoped that in the future it will be a 24 hour, 7 days a week helpline. There are only about 220 Admiral Nurses in the country but the number is increasing as the evidence for support for family carers of people with dementia grows.
The Wakefield district has had its first Admiral Nurse in post since early 2016 thanks largely to the determination of one of our club member, Rotarian Sheila Wainwright, whose late husband suffered from dementia. Sheila has led a campaign to raise money to kick-start the project and with more than £120,000 having been raised, South West Yorkshire Partnership NHS Trust has agreed to fund a second specialist dementia nurse. Her name is Charlotte and she was appointed at the beginning of February 2017. She will be working in Normanton, Castleford and areas north of Wakefield.
Matthew, our first Admiral Nurse, has been working in the West Wakefield area including Lupset, Ossett, Chapelthorpe and Sandal. He already has a very heavy caseload of 70 people and families seeking support. There are 3,800 people diagnosed with dementia in Wakefield and approximately 1,000 undiagnosed. Usually referrals are made by doctors' surgeries, but many people hear of the good work he is doing and seek his help. You can see a video of Matthew working in Wakefield on the Dementia UK website https://www.dementiauk.org/matthew/
It is expected that a third Admiral Nurse will be based at Wakefield Hospice during 2017 working part time to provide end of life care and by the end of 2018 it is planned and hoped that a fourth nurse will be appointed to complete a team.
A big "thank you" is due to Julie Allen, who was a member of the Clinical Commissioning Group working for the NHS in Kirklees. She is now working full time for Dementia UK in the north and presently supporting the Wakefield Admiral Nurse project. Determined that Wakefield will not lag behind Kirklees, she has now agreed a contract with the NHS to give Wakefield its second and third Admiral Nurses.
The NHS trust has had Admiral Nurses working in Kirklees, in partnership with Dementia UK and Kirklees Council, for some time. The NHS Trust's (now retired) chief executive Steven Michael said: "We now have this exciting opportunity to provide the same level of support in the Wakefield district and I have given Sheila, whose campaigning is inspirational, my backing."
Sheila's campaign has been supported by the Rotary Club of Wakefield and other Rotary clubs in the area, as well as Inner Wheel, Soroptomists and the Women's Institute. Sheila is pictured here with Wakefield Rotary 2014/15 president Stuart Livesey and Bishop Tony Robinson at the club's Brighouse & Rastrick Band fund raising concert in Wakefield Cathedral on 4th October 2014.
Many thanks to Wakefield Inner Wheel, Wakefield Chantry Rotary Club and Ossett Rotary Club for choosing Dementia UK Admiral Nurses for Wakefield for their main charity for 2016/17. Thanks also to members of the Wakefield Rotary Club and other Rotary clubs in the area for contributing to the fund during the year. Generous donations have come from visits to church clubs, societies, the Wakefield Gardening Club, Soroptomists etc. after talks about the role of Admiral Nurses by Rotarian Sheila Wainwright. Particular thanks to Ian Howarth of the Wakefield Chantry Rotary Club, who has personally raised a large sum of money through concerts and local events. Sheila is happy to accept any invitation to speak about the crucial role and dedicated support an Admiral Nurse can give to a family with dementia.
The Spring Café in Wakefield was one of many local groups who took part part in the "Time for a Cuppa", in March 2017, a nationwide fundraising project.
Further information about this event or more information about Admiral Nurses can be obtained by contacting Rotarian Sheila Wainwright by email via Contact Us or see the Dementia UK website www.dementiauk.org