New Brookhouse Club
From
the 4th September 2008
the Rotary Club of
Wakefield
will have a new home at New Brookhouse Club,
221 Barnsley Road
,
Wakefield
WF1 5NU
. We welcome all Rotarians to join us and experience our new surroundings for themselves.
The following is a précis of an article published in Club Mirror.
The photographs were taken by Rotarian Ken Pinder
Starting Afresh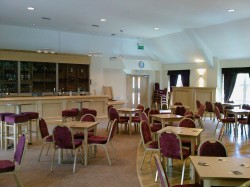 Brookhouse Working Men's Club was doing fine financially but could not afford to keep up with the maintenance bills on its tatty old premises. If the club was going to attract business from non-members and keep on top of things generally, it needed a new building. Now it has one. Matthew Moggridge went along for a sneak preview
From Leeds Wakefield was no more than 20 minutes away and Julie Brough, club secretary of the New Brookhouse club, was there to meet me off the train. The club was so-called because it was brand spanking new. So new, in fact, that it was still a building site, albeit an impressive one.
Transformation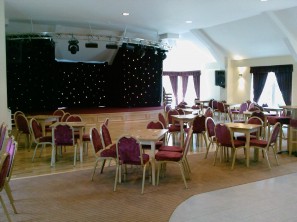 A number of options were put before the committee. One was sorting out the access problems. Two was taking on a developer. Three was selling the land, knocking everything down and starting again. Options one and two were discarded. Option one would have meant keeping the old building. Number two would mean selling up and finding somewhere else to house the club. Number three was the best way ahead even if it did involve complicated terms like a 'pre-emption agreement' and a 'collaboration agreement'.
The club entered into discussions with local businessman David Rock and his company, Hanover Developments. The land was valued and planning permission sought and obtained. "It was a joint planning application for residential and commercial usage," explained Julie. Under the agreement, a value split was made with the club taking 75 per cent and Hanover Developments 25 per cent. "Hanover Developments applied for planning with us as a follow-on. They paid all the up front fees and no money changed hands at that point. If they got planning permission and we didn't like their plans, we had a right to say no but would have to give them first refusal, but we didn't say no. We saw the plans and we worked together," said Julie.
Both Hanover and the club used the same architects and planning permission was granted on 21 December 2005 for the whole site. "We then had about three months to make up our minds about pushing ahead. We agreed a value, did all the legal stuff through solicitors and then the money changed hands," said Julie.

Dropping the working man image
Brookhouse has 1,400 members and is what Julie calls a 'full equality club'. While the club wants to retain its CIU roots, it wants to drop its working men's club image and generate funds for the future. "It's a business even though it's a club. It's a business owned by the members and we want to incorporate the old but take on the new," Julie said
The new club building is on two levels. Level one accommodates a commercial kitchen, toilets, baby changing facilities, a glass foyer, tap room/bar parlour, games room (plus separate snooker room) and offices. Level two houses Julie's office, the lounge bar (with no fixed seating) and, of course, the concert/function room which has its own bar and food servery area. Above that, in what amounts to a loft conversion, is the club steward's accommodation.

Making the most of the space available
New Brookhouse's core membership revolves around its games teams - hence the close proximity of the games room and the tap room/bar parlour. Julie plans to generate additional income through the concert room, the kitchen and the lounge bar on level two. The aim is to maximise the usage of the available room space. There will be live entertainment at the weekends in the concert room and the club will be organising its own foodservice operations. All areas of the club will have access to food. When the club opens in August (2008), the plan is to offer a members' carvery and then add on additional offerings using a club chef.
The old club concert room was downstairs next to the old tap room and during the day it was not used. From August (2008), when the new building opens, Julie plans to promote day time usage of the facility for staff training and conferences. "Anybody can book it," she said, meaning non-members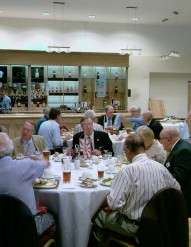 The photograph alongside shows a section of the
function room at New Brookhouse Club, with
Rotary Club members dining on the 18th September
2008