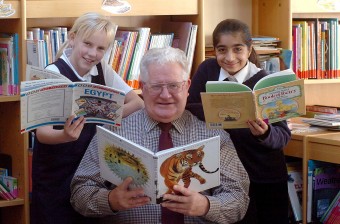 and REPORTS 21.07.09
and REPORTS 23.09.10
and REPORTS 12.07.12
Reading in Schools is a national campaign to promote the importance of literacy and seeks to engage volunteers from business to become reading partners with 7-11 year old primary school children.

On 26th August 2004 an initial seven-strong team of Wakefield Rotarians backing the Reading in Schools literacy project earned an accolade at a Club meeting.

Roger Bamforth, organiser of the region's community service volunteers under the Retired Senior Volunteers Programme, paid tribute to the club members who are involved in the scheme in local primary schools.

"Their enthusiasm is appreciated enormously, " he said, "The job is incredibly rewarding for all those who take part - and there are 350 throughout the region."

He added that his organisation had been invited to promote the scheme at next September's Rotary district conference at Scarborough, an opportunity that he hoped would lead to more stepping forward to help. At the time of the meeting the Wakefield club wass the only group of Rotarians taking part in the programme.

Roland Mold, one of the first from the club to volunteer, said: "Robert is right. There is enormous satisfaction to be gained from helping youngsters acquire the reading skills that so many of us take for granted."

By May 2005 the literary project involving Wakefield Rotarians had been taken up by the movement at national level.
Hazel Haas, a Knaresborough Rotarian who serves on the organisation's district committee, praised the club at a meeting at the Stoneleigh Hotel as the first in Rotary to support the Reading in Schools programme.
"This set a wonderful example," she said, "It has been taken up at district level and now it is being taken up nationally by Rotary." Eight Rotary districts in the UK had decided to take part at this time.