April to June 2015
18th June 2015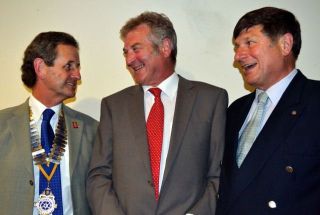 LEEDS FIREMAN WHO BECAME A HIGHFLYER

Rob Hields, owner of Hields Aviation based at Sherburn Airfield, is boss of one of the largest providers of helicopter services in the North of England.
He began his working life as an apprentice engineer in Leeds, then decided to become a fireman - a job from which he derived immense satisfaction - before organising (with difficulty) the finances he needed to buy a helicopter and learn to fly it.
Rob regaled club members tonight with a series of stories from his varied life, which now includes providing helicopter services for Hollywood blockbusters.
He is pictured here (centre) with club president Stuart Livesey and Neale Clark, who proposed a vote of thanks.
15th May 2015
MINSTER CONCERT RAISES £624 FOR CHILDREN'S HOSPICE

The Forget Me Not Children's Hospice in Huddersfield is £624 better off as a result a Master Singers concert at Dewsbury Minster, organised jointly by the Wakefield and Dewsbury clubs.


A jumbo cheque was presented to Lucy Burnett, senior community fundraiser for the hospice, by Sheila Wainwright, chair of our ways and means committee, with Ian Leask, president of Dewsbury Rotary Club, and Neale Clark, chairman of our community service committee.
14th May 2015
MARK KNOWS HOW TO MAKE A MINT!

Leading Wakefield businessman Mark Ridgway, chief executive of Group Rhodes, was dishing out money at this week's club meeting. It consisted of presentation packs each containing a gleaming 50p commemorative coin to mark the 75th anniversary of the Battle of Britain, minted on machinery made by Rhodes.
They were gifts to RIBI president Peter King and district governor Rod Walmsley who were among his audience at the New Brookhouse Club. The thi
rd cased coin will become the prize in a future club raffle, said club president Stuart Livesey (right).
A keen athlete, Mark was appointed the UK's Advanced Engineering Sector Champion for the London 2012 Olympics and he said he was particularly proud that his company's machinery had also been used to mint Olympic commemorative coins.
He talked about the group's seven companies serving the aerospace industry, advanced automation, metal forming, precision engineering, environmental, heavy ceramics and oil and gas markets. One of the well-known local companies under his wing is Craven Fawcett, whose former chairman, Rotarian Robert Craven (left), now retired, proposed the vote of thanks.
Mark, who was awarded an OBE in 2011 for services to industry, covered a great deal of ground but he laid particular emphasis on the country's shortage of engineering skills. For this reason he is a keen supporter of four-year modern apprenticeships. Ten per cent of his own workforce, he said, were apprentices. He also urged that more women should become engineers.
Rotarian David Oughtibridge spoke up to thank Rhodes for the help they gave his daughter when she trained as an engineer. She is now head of the IT department at Vauxhall's assembly plant at Ellesmere Port.


There were some distinguished guests at tonight's club meeting but the show was stolen by a young tawny owl, five-week-old Dusty, the latest addition to the birds at the Yorkshire Owl Experience at Ossett.


When Steve Arabskyj brought five of his owls to a meeting at the New Brookhouse Club in February, he was presented with a cheque for £100 to help him with his work. That money has partly paid for Dusty and yesterday Steve fulfilled a promise to bring the bird to the club.


There was a surprise presentation by staff at the Brookhouse Club. They had been very taken with Steve's earlier visit so this time they handed him a fluffy white owl. It was, in fact, a toy that was presented by Jean Dale on behalf of the staff. The real thing was quite unfazed by all the fuss.
PICTURED: Ken Pinder had been looking for a parrot to go with the temporary eye patch...........
13th May 2015
NOW PORTOBELLO GETS LIFE-SAVING DEFIBRILLATOR


Today's presentation of a life-saving defibrillator to Portobello Community Centre was a special moment for former army doctor Neale Clark, who was for many years a GP at the nearby Maybush Medical Centre.
Neale, now retired, is chairman of Wakefield Rotary Club's community service committee, and it was his idea that the club should provide a series of defib machines at key points in local communities. They are used to give electric shocks in emergencies where someone is suffering a heart attack.
Neale is pictured here giving instruction to Sally Martin (second from right), responsible for the centre as facilitator for Portobello Community Forum, Paul Prest, director of Inspiring Communities, and volunteers Pip Lockhart (left) and Emma Colley. The centre's team will also undergo resuscitation training.
The club, in conjunction with Wakefield Ambulance Service, has already funded defibrillators costing nearly £1,000 each at Busy Corner and The Spring Community Shop and Cafe in Sandal. The next installations will be at community centres in Standbridge Lane and Eastmoor.
7th May 2015


THE NEED FOR NEW MODELS OF HEALTH CARE

Steven Michael, CEO of the SW Yorkshire Partnership NHS Foundation Trust, paid a visit to Thursday's meeting in recognition of the work undertaken by Rotarian Sheila Wainwright and the club in getting Wakefield its first dementia-support Admiral Nurse.
Steven, who began his career as a registered nurse, said he had seen many changes in the 30 years he had worked in mental health, Our ageing population is creating new problems, of which t
he need for dementia care is one. The Trust is looking at new models of care and the introduction of Admiral Nurses, who perform a similar role to Macmillan Nurses, is an important development.
He said: "The more we understand how dementia impacts on local communities, the more effective our help can become."
Our photo shows club president Stuart Livesey (right) and Sheila discussing NHS matters with Steven (second from the right). Brian Lawrence (left) proposed a vote of thanks.
23rd April 2015
WAKEFIELD HAS 'FASTEST GROWING ECONOMY'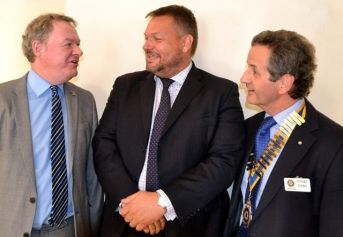 Our district has the fastest growing economy in Yorkshire and Humberside, Paul Reid, chairman of Wakefield First Enterprise Partnership, told the club tonight. Despite this, a lengthy question and answer session showed that there were many issues that left members anxious and disappointed, especially the number of empty shops in the city centre.
The retail scene was not part of his brief, he said, but he acknowledged that problems remained. He explained that the role of Wakefield First, a public and private partnership which he has chaired for two years, was to drive economic growth in the district. Its primary task was to encourage inward investment.
He said: "For me Wakefield is definitely improving. It has a vibrant arts scene that attracts visitors but we want them to stay, which means we need a really good hotel in the city centre."
Paul also talked about his own business life. He began as an air traffic controller at Heathrow and rose to become managing director of NATS, a global air traffic services company that operates in 33 countries. He took the organisation from a government agency to a £1billion business. He now operates an air traffic management consultancy and services company based in Wakefield.
Paul is pictured (centre) with club president Stuart Livesey and (left) host to speaker Nick Castle.
17th April 2015


PRESIDENT'S NIGHT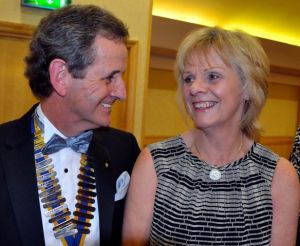 Stuart Livesey's President's Night at the Cedar Court Hotel went with a real swing last night as singer Richard Daniels brought his own style of well-known music to the dance floor.
Stuart was delighted with the way the evening went and he paid special tribute (with a bouquet) to his wife Diane for all the work she had put into both the event and his year as president.
For more information about Richard Daniels and his brand of entertainment, go tohttp://www.richsingsswing.co.uk/
16th April 2015
AGM REVIEWS A YEAR OF ACHIEVEMENTS
The club looked back on a successful year at tonight's annual meeting. Committee chairmen reported on activities and achievements ranging from the provision of dictionaries to junior school pupils to installing defibrillators for public use at key points in Wakefield, from disaster relief to help for overseas children, from reading programmes in local schools to the annual Young Chef competition.
Committee chairmen for the forthcoming year will be Martin Perry (vocational), Sheila Wainwright (ways and means), Neale Clark (community), Anita Holmes (environment), Ann Roberts (youth), David Garforth (foundation), Stuart Livesey (membership) and Geoff North (communications). Next year international chairman and president-elect Michael Townsend will step up to succeed Stuart Livesey as president. The international committee's new chairman has yet to be named.
Council members for 2015-16 will be Mary Peace, Roger Brown, Jonathon Eastwood, Sue Muscroft, Sheila Wainwright and Ray Preston. Representatives on district council will be Peter Gallivan and William Smith.
Honorary members re-elected were Sir Rodney Walker, Canon Roger Cressey and Guy Cliff.
9th April 2015
DEDICATED COUPLE'S WORK FOR KENYAN SLUMS SCHOOL
The Kabiro Community School in the slums of Nairobi has found two dedicated and hardworking supporters in retired company director Chris Patel and his wife Madhu, who have poured £20,000 of their own money into the school in their home country of Kenya.Now the couple have another £4,000 in a special account for the school as well as recently raising the £1,750 needed to cover the cost of shipping 5,000 educational books to the school, given by the Books2africa charity.
Their fundraising received a further £100 boost tonight from Wakefield Rotary Club after they gave a presentation about the work being done at the school. The cheque was handed over by club president Stuart Livesey.
If you can assist the Patels further with their work for the school, email madhu.patel@talktalk.net.
Our photo shows Stuart with Chris and Madhu with (on the right) Richard Taylor who proposed a vote of thanks.