JANUARY TO JUNE 2017
THOUGHTS ON TERRORISM 8th June 2017
Following the acts of terrorism in London and Manchester recently, I was invited by the President to hold a short silence before addressing the club for a few minutes on the events themselves.
I am not sure quite what he meant by this brief,
I speak now from my standpoint as a retired Anglican priest who has worked both in parishes and for the last 20 years of my ministry as a full time hospital chaplain.
It goes without saying that I cannot justify such behaviour. What I do know, is that all civilised people feel deep compassion for the victims and their relatives and are growing increasingly irritated by these crimes.
They are not mindless actions, but well thought out, planned campaigns of carnage done in the name of their God. I abhor what they do as they give justification for angst against all religions.
I have been privileged to meet and work with people of all faiths and none.
The major faiths of the world at best see the need to care for humanity and to live in peace and harmony, showing compassion and dignity for all.
In every religion there are those who choose to remain fundamentalist at heart and even through study and practice, never change in their outlook, remaining determined to read their scriptures literally and condemn those who disagree with them.
Historically, this has also been the case in the Christian faith and has resulted in the past in wars, crusades and the wholesale killing of unbelievers.
Even though Jesus is quoted as praying these words 'May they all be one, Father, as you and I are one'.
Although human consciousness has advanced greatly over the years since Christ's birth, even today each of the differing denominations in our own Christian faith still believe that its own unique teachings and practice hold the real truth, which justify their own beliefs and practices as being right and therefore the best. We still have quite a way to go.
None the less, Christianity in the West has been transformed into what we now see and know as a religion of peace and love.
Not so in the middle East as fundamentalists remain with their separate factional beliefs and even have the aim of eradicating democracy together, as well as killing any 'infidel' or non believer, who does not share their beliefs.
Throughout my life my spiritual search continues to convince me that God is LOVE.
Reading avidly the theologians of this century I know that I am not alone in this.
From a very young age and because of unhappiness as a child I began to search for that essential truth of God wherever it was to be found, to help me to live successfully, and I have never stopped or regretted this for a moment.
It continues to be enlightening, edifying and life fulfilling which I now realise will never end. My search has been truly transformative.
I have struggled over the years with Christian fundamentalism and studied every different practice and belief, both in my own as well as other Christian denominations until I became a hospital chaplain, where I found myself ministering to people from every walk of life, with or without faith from every conceivable denomination and faith, and to many with no faith at all, which has been liberating.
What I came to realise was that people needed love along with the medicine they received more than anything else in the form of compassion, dignity, respect and understanding; the very qualities that sustain and encouraged the healing process.
CANON ROGER
28th April 2017
NEW VICAR FOR A 'DYNAMIC' PARISH
The Rev Kevin Greaves, the new vicar of Chapelthorpe, whose parish includes Calder Grove, Kettlethorpe and Newmillerdam, spoke to us tonight about his time in the church and how he came to be where he is now.
His talk was laced with humour. He was curate at Castleford for four years ('like a vicar with L plates') until being appointed to his present post last August.
He said: "It's quite a dynamic parish and the people are genuinely lovely."
A vote of thanks was proposed by David Garforth, on the right of our photo of Kevin with club president Neale Clark
6th APRIL 2017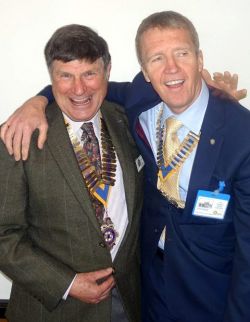 MEMORIES OF THE NETHERLANDS' WAR
Our president, Neale Clark (left), gets a welcoming hug from Wakefield Chantry president Chris Sharp when we joined them tonight to hear Hilversum Rotarian Maarten Kapteim talk about his country's invasion by the Germans.
At the meeting at the Hotel St Pierre at Newmillerdam he described how the Netherlands continues to mark the day in May 1945 when it was freed by the Allies.
30th MARCH 2017
IT'S ALL DOWN TO TEAMWORK, SAYS SAM

Professional fundraiser Sam Lambert - who organised a £9,000 lottery grant for Chantry Rotary Club's dragonboat race - told members tonight how she first became involved in raising money for charity.

She has a profoundly disabled son, born in 2001, as a result of which she joined Leeds Mencap because she had to seek help as single parent. She eventually began fundraising for the group until 13 years ago when she launched a charity called Snaps (Special Needs and Parents Support).

Because of its success she was invited to be one of the torchbearers for the 2012 London Olympics. She later visited the club (with her torch) to tell us about the experience.

She is now a fundraising consultant and she talked tonight about some of the projects in which she has been involved. She urged the club to develop a specific giving strategy.

"Targeted fundraising in your own community can also encourage new members," she said.

She explained that the lottery grant for the dragonboat race was used to recruit small charities and schools that might not otherwise be able to be afford to take part.The race is at Pugneys on Saturday, July 8.

Sam said: "This is a fantastic way of raising money for your chosen charity. You don't have to be super fit or super strong. It's all about teamwork.

A vote of thanks was proposed by Sheila Wainwright. Sam is pictured with club president Neale Clark.

23rd March 2017
VISIT BY MARY CREAGH MP
MP Mary Creagh has hit back angrily at the internet troll who posted 'Resign you bitch' after she took part in broadcasts following the Westminster terrorist atrocity.
She spoke to Wakefield Rotary Club tonight - the day after the incident - when she said that normally she ignores attacks on social media but this had stung her into replying to the perpetrator. "Why should I put up with that?" she asked, "No-one would say it to my face."
Recalling the horror of the fatal attack in which a policeman was among those who were killed, she said: "The police are not just faceless people at the gates. They are incredibly patient with MPs."
Her staff had to spend four hours restricted to an office that overlooked the carnage. "The fabric of normality had been ripped apart," she said.
She paid tribute at the meeting at the New Brookhouse Club to the Rotary movement's campaign to eradicate the 'great scourge' of polio from the world. There were many other challenges that we all had to meet, including global warming, an ageing society and technological changes, she said
She reviewed some of the successful developments taking place in Wakefield where she said there were also some big challenges to be faced, especially in the field of health. She recently won a battle to keep the King Street Health Centre open. "We need to develop walk-in facilities to ease the pressure on the NHS elsewhere," she said.
After a lively question and answer session, a vote of thanks was proposed by Rotarian Jonathan Eastwood (pictured left with Mary and club president Neale Clark).
16th MARCH 2017
CLUB WELCOMES STEPHEN AS A NEW MEMBER
Chartered management accountant Stephen Flicker was inducted into the club this evening by president Neale Clark who was able to offer a warm personal welcome.
Stephen and Neale have been friends for a number of years and, with others, they set up a community group called Favourite Flavours, making chutney and jams at St George's church centre at Lupset.

The group employed and advised people with social and mental problems to help get them into permanent jobs.
Stephen has been involved with our Christmas post and he helped out for several years on an allotments project at Eastmoor Community Gardens. He was also a governor at Snapethorpe Primary School for ten years. He runs his own company, Flicker Associates Ltd, in Wakefield,

Stephen was proposed by past president Stuart Livesey, on the left of our picture.
9th March 2017
'A LOT OF FIGHTING TO BE DONE YET', SAYS BISHOP
The Rt Rev Tom Butler, who lives at Walton with his wife Barbara, told club members tonight that there are still some tensions in the Church of England about the ordination of women, but the biggest difficulties surrounded homosexuality and gay marriage. "There's a lot of fighting to be done yet," he said.

He talked about his life as a bishop, a story that he punctuated with plenty of anecdotes, especially about the media people he met as one of the regulars on BBC Radio 4's topical morning Thought for the Day. He is now an occasional contributor to the programme.

He was an area bishop in London until he was appointed diocesan Bishop of Leicester in 1991 and then of Southwark in 1998, covering much of London south of the Thames. He retired from that post in March 2010 and is now an honorary assistant bishop in the diocese of Leeds, which means he stays busy. But he added: "Any diocesan bishop will find his job is unrelenting hard work."

He holds three degrees in electronics from Leeds University and he spent 12 years as chaplain and lecturer in electronics, first at the University of Zambia and later at Kent University at Canterbury.




9th February 2017
ORGANISATION PROVIDES SUPPORT FOR CARERS
Michelle Roberts, from St Anne's Community Services, talked to us on tonight about her organisation's work with those suffering from mental health problems, drug and alcohol abuse, and early dementia symptoms. Much of the work is geared to helping hard-pressed family carers.
Set up in 1971 with a soup kitchen at Leeds Roman Catholic Cathedral, the organisation now employs 1,500 people in the North of England. Michelle emphasised that St Anne's, despite its roots, is not a religious organisation and will help anyone and their carers.
Michelle was joined at our meeting by Kelly De-Mello, St Anne's volunteers' coordinator.
A vote of thanks was proposed by Nick Castle who said its growth showed what a great need there was for the organisation.
Our picture shows Nick on the left with Kelly, Michelle and club president Neale Clark.
12th January 2017
TWO WOMEN ACKNOWLEDGE THEIR DEBTS TO ROTARY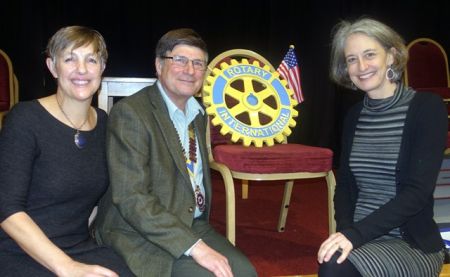 We had two visitors tonight from the US. Neither of them was a Rotarian but both had uplifting stories to tell about their debts to the Rotary movement.
Teri Carlson is from Portland, Oregon, and both her daughters have been on Rotary exchanges, the eldest to India, her sister to Peru. She was at our meeting with her close friend Dee Harley, daughter of a West Yorkshire miner but now living in California.
Teri said that when her first daughter earned a place on a year-long exchange, Teri, as her mother, was confident knowing that she was going with Rotary, an organisation that she knew would look after her. Her daughter had been introverted, quiet and academic but she returned from India a changed girl expecting more independence.
Teri's links with Rotary also extended to her family hosting overseas students from Finland, Mexico and Germany.
Dee recalled how, in the midst of a very depressed situation in the mining industry, as a 16-year-old she took part in Operation Raleigh, going to Honduras. She had to raise £1,500 herself but in fact she doubled this, allowing a deprived youngster from London a place on the expedition. Our club made a contribution to her fundraising.
Dee said: "My world changed because of your support." The experience gave her a taste for travel and she eventually finished up in a village in California where she met her future husband. They took over a derelict dairy farm where they have since developed a goat dairy business whose products include award-winning cheese.
Club president Neale Clark thanked both speakers for "two remarkable stories". He is pictured with Dee (left) and Teri.
5th January 2017
NEW YEAR'S MESSAGE
It is not often that people change jobs and lifestyle in mid-career. But that was exactly what Sandal-born Catherine Moxham decided to do. After 22 years as a marketing and sales executive in the hotel business, Catherine realised that there was more to life.
She told members and guests of Wakefield Rotary Club: "I discovered that looking after the needs of the vulnerable and less fortunate, the young and the elderly was more meaningful than the relentless pursuit of profits."
As a Christian, she felt called to help others and in 2008 she took on the task, initially one day a week, of assisting with the running of The Spring, the charity shop and cafe run by St Helen's Church in Sandal.
She was telling her story at the Rotary club's New Year's Message at The Park Restaurant, Waterton Park Golf Club. She related her journey to The Spring and how the church community was able to raise the £90,000 needed to refurbish the building.
The work was completed in 2009 and the venture re-opened as The Spring Community Shop and Cafe, with Catherine taking up full-time employment in January 2010. With the help of five part-time members of staff and over 70 volunteers, she now runs a re-energised community enterprise, providing quality second-hand clothing, bric-a-brac, books and children's toys, in addition to a 60-seater cafe offering home-cooked hot meals, snacks and drinks.
Catherine added that, as well as raising money through the sales in the shop and café, The Spring was able to provide financial support to a variety of charities, in particular Christians Against Poverty and several smaller closer-to-home charities, such as Fusion Youth Group, Possibility Praise and Yorkshire Air Ambulance.
Sheila Wainwright, president elect, thanked Catherine on behalf of the club and presented her with a bouquet of flowers.