January to June 2018
5th January 2018 New Year's Messge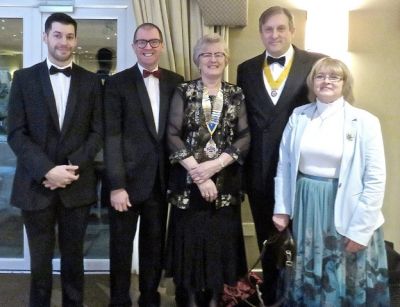 Inspirational musician and music teacher, Paul Whitaker OBE, enthralled members and their guests at the club's New Year's Message held at 315 Bar and Restaurant, Lepton.
His musical talents are all the more remarkable because he is profoundly deaf and relies on a variety of techniques and strategies such as mental imaging of music, vibrations and rhythms to play and teach. Ably assisted by sign language interpreter, Stephen Heselton, he held the audience spell bound as he demonstrated and involved everyone in using sign language to express songs. Performing "The Impossible Dream" he showed how expressive sign language can be.
That song sums up his disability and his efforts to overcome it. From an early age he persevered in mastering the piano and later the organ. After he was repeatedly turned down by universities he finally found one, Wadham College Oxford, that was prepared to take him on.
Today his impossible dream is to teach deaf children, wherever they are, to master music and gain confidence in a challenging world.
" He is truly an example to us all in how you can overcome adversity and achieve what is seemingly impossible," enthused Sheila Wainwright president of the club. She added " When I was a headteacher, his assistance in teaching my children music helped the school to gain an "excellent" mark from Ofsted inspectors".
The vote of thanks was given by President Elect, Jonathan Eastwood. Our photo shows (from left): Stephen Heselton, Paul Whitaker, Sheila Wainwright, Jonathan and Diane Eastwood.