January to March 2014
27th March 2014
Club member Alan Gale, pictured here with president Nick had plenty to talk about when he spoke of 'The Other Side of Banking'. He drew on his 30 or more years with what we used to know as the Midland Bank, mostly in the north-west, to amuse with stories about bankers that we certainly wouldn't have heard elsewhere!

13th March 2014
LISTENING to Orrienne Edward was a humbling experience. Born in Zimbabwe 18 years ago, she came to the UK with her parents when she was aged seven, later becoming a student at St Thomas a Becket High School, Wakefield.
When she was 15, her father told her she should visit her home country. It was to be a life-changing experience.
She spent eight months getting back in touch with her roots, attending a small government school where she saw how desperately the children wanted to learn, despite - or perhaps because of - their poverty. "One of the lessons I learned was that education isn't a burden, it's a privilege that we in this country are lucky to have," she said
Now Orrienne, an eloquent speaker, is tackling the challenge of raising £15,000 to provide a science lab at the school in Zimbabwe. So far she has more than £2,000 and club president Nick Castle added another £100 when he presented her with a cheque on behalf of members. She has organised a number of fundraising events, including talent shows at which she has performed.
Rotarians were able to hear just how talented she is herself when she provided a beautiful rendition of 'Amazing Grace'.
Orrienne is currently a student at St Wilfrid's Sixth Form College at Featherstone. She plans to return to Zimbabwe after qualifying as a doctor, going on to do research into tropical diseases.


6th March 2014
The club welcomed another new member when Anita Holmes was inducted by president Nick Castle. She was proposed by Rotarian William Smith. Anita grew up in Wakefield and is marketing manager at Global Graphics Equipment Ltd on Chantry Bridge. She lives in Crigglestone and has two daughters, both of whom live in London.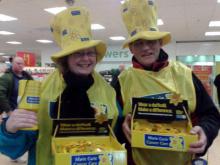 CLUB RAISES £1,280 FOR CANCER CHARITY
Our team was out collecting at Asda's where they made £1,281 for the Marie Curie Cancer Care's Great Daffodil Appeal. Our picture shows club members Melissa Tomlinson and Peter Rhodes really looking the part! The collectors, organised into a rota by Rotarian David Pickover, were at the store on Friday, February 28, and Sunday, March 2.
13th February 2014
Fr Colum Kelly's seamen's centre at Immingham was devastated by a tidal surge in December but the task of rebuilding was helped by a cheque for £100 after he spoke to the club about thechallenges he faces at the port.
He told club members about his work with the Apostleship of the Sea, the mission that he has run for ten years as a priest in the Roman Catholic Diocese of Leeds. Rose George, daughter of club secretary Sheila Wainwright, devoted several pages to Fr Colum in her book 'Deep Sea and Foreign
Going', describing his work and achievements with admiration. His task is to provide both spiritual and practical support to the seamen who pass through Immingham, starting with personal visits to them on board their ships.
He said some 95 per cent of all we use comes to us by sea - but how often, he asked, do we think about the men who crew the ships?
'Not often,' was the answer he gave. 'It's an invisible world that's always hard and sometimes cruel - but we utterly depend on these crews.'
And as for the seafarers' centre, he added: 'The building may be broken but the mission goes on. We've shed our tears, no-one was hurt and we will rebuild.' The task is expected to take eight months.
Sheila proposed the vote of thanks. She had been to Immingham to find out for herself just what the mission does. 'I've seen the love and affection in which Colum is held,' she said. She added later on the club's Facebook page: 'A man who makes me feel very humble.'
The cheque was presented to Fr Kelly by club president Nick Castle.
CAPTION
Father Colum Kelly supported by Rotary club secretary Sheila Wainwright (left) and her daughter,
author Rose George
.
30th January 2014
THE CLUB welcomed chartered accountant Melissa Tomlinson as a new member at its meeting on January 30. Melissa, a third generation Rotarian, was previously a member of the Maidenhead Bridge club, which she joined in November 2012, quickly earning a reputation for her enthusiasm and commitment.
Melissa, who is also a former Rotaract member, is currently working as a management accountant with HCP Social Infrastructure (UK) Ltd in Leeds. She now lives in Netherton, near Wakefield. She is pictured here with club president Nick Castle (left} and president-elect Stuart Livesey, who formally introduced her to members - although she has been a familiar face at meetings for several weeks.
23rd January 2014
CLUB members and guests celebrated Burns Night in fine style at the New Brookhouse Club this evening, helped by members of Wakefield Caledonian Society.
The haggis, paraded by chef James Wales, was piped in by octogenarian Tony Hindley. Toastmaster and master of ceremonies for the evening was Bill Sim
Barbara Clayton said the traditional Selkirk Grace and the haggis was addressed by Andy Kidd, a member of Pontefract Rotary Club, who also proposed a toast to 'The Immortal Memory...'.
At the end of the evening everyone joined hands in a circle for Auld Lang Syne. A raffle
raised £127 for the club's charity fund.

16th January 2014

DAVID MARSH, chief executive officer of Wakefield District Sight Aid (WDSA), took up his post only in November - and he clearly has a tough challenge ahead of him. The club responded by presenting him with a cheque for £100, perhaps with more to follow.
The charity supports blind and partially sighted people through the Wakefield district. It also administers the RNIB's Talking Book Service, but David raised the prospect that changes at the institute, coupled with the impact of required savings at the local statutory level, have brought about a review of future provision across Wakefield. He said that as well as fundraising, he hopes companies or volunteers will come forward to help with, for example, IT support.
A vote of thanks was proposed by Richard Taylor who said he had been astonished to read on the WDSA's website that for every £1 raised, only 2p goes on administration with 3p spent on raising further funds. He wondered if this was a record for a charitable organisation.