30th NOVEMBER 2017
ONE OF THE CITY'S 'BEST KEPT SECRETS'
The Community Foundation Wakefield District is one of the city's best kept secrets, says its administrator, John Major, but a lot is now being done to raise its public profile.
He came to the club last night to talk about the work of the foundation, one of a number throughout the country, As it website proclaims: "We champion local causes, bridging the gap between those in need and those that are able to help."
The foundation, John explained, has already distributed £2million to 1,600 local causes in the district, which is the 65th most deprived out of 326 in England. Child poverty in Wakefield is among the highest in the country.
Wakefield's dilemma, he said, is its thriving economy on one hand, and poverty on the other, much of which is driven by low aspirations which in turn lead to low skills. This is a problem the foundation is seeking to combat by raising aspirational levels in a variety of ways.
It is also involving the elderly by identifying those who are socially isolated. Soon there will be 35 per cent of people in the district aged over 65.
The foundation raises money locally as well as being at the door of national sources such as the lottery and Comic Relief.
John also talked about the foundation's very successful Unsung Heroes awards scheme for which there were 100 entries. He said: "This was not a money-maker but the aim was to raise the profile of the voluntary sector.
To find our more, go to the foundation's website at
http://wakefieldcf.org.uk/
.
16TH NOVEMBER 2017
ROUGH SLEEPERS' CHARITY PLANS TO MOVE INTO WAKEFIELD
Our speaker tonight was former military policeman Gordon Laing who is now general manager of the Leeds-based Simon on the Streets which is an independent charity offering emotional and practical support to what he described as 'entrenched' rough sleepers.
The charity, which was formed in 1999 operates on an outreach basis to rough sleepers in Leeds, Bradford and Huddersfield but is now about to extend its work to the Wakefield area. Its team of seven staff plus volunteers helps rough sleepers who refuse assistance from other sources.
Gordon said that most of those sleeping on the streets, some of whom are ex-servicemen, have severe mental health problems. He said: "Being on the streets drives them to drugs and alcohol, then they can become aggressive so the hostels don't want them. A lot of them just don't want to get off the streets."
The charity currently has 136 service users with complex multiple needs; 87 per cent of them are men and the overall age range is 22-54.
To find out more go to
http://simononthestreets.co.uk/ or on Facebook at https://www.facebook.com/simononthestreets1/
Sheila presented Gordon with a cheque for £100 from the club to help the charity with its work.
2ND NOVEMBER 2017
CLUB HANDS OVER £1,250 TO CHILDREN'S HOSPICE
The club was thanked tonight for its 'amazing support' for the Forget Me Not Children's Hospice when a cheque for £1,250 was handed over. The money came from the brass band concert at Wakefield Cathedral in April and the Teddy Bears Parachute Jump in September.
Ryan Grint, the hospice's community fundraiser, said how grateful they were for the club's support, not just on this occasion but over the years. This had helped raise the hospice's profile, which was important because it provided a service to the whole of West Yorkshire, not just the Huddersfield area where the hospice is located.
24th October 2017
CLUB PAYS FOR SPECIAL CHAIR TO HELP BOMB VICTIM
When a suicide bomber detonated his explosives at the Manchester Arena in May he killed 23 people and injured scores more, including Wakefield mum and dad Susan and Nigel Hilditch. Now Susan, the worst injured of the two, has been given help by Wakefield Rotary Club who have paid for a special chair to speed her recovery.
A cheque for £450 was handed over today by the club's service projects chairman, Dr Neale Clark. The money comes from the Manchester Arena Families Trust which was set up by Rotarians in the North West England District 1285.
The couple who live in Rishworth Close, Wrenthorpe, were waiting in the foyer for their daughter, 17-year-old Emily, when the bomb when off. Emily, who was in the throng about to leave the arena, heard the blast and at that point did not know what had happened to her parents, both of whom suffered severe soft tissue shrapnel wounds to their lower legs. They were fortunate enough to be helped by a doctor who was in the crowd.
Both had three operations in five days at Manchester Royal Infirmary. Nigel, 50, said: "Everyone in the hospital was fantastic. It was unbelievable."
Susan, 54, has now had four operations on her legs, including tendon and ligament grafts as well as skin grafts. Her legs swell after she has been on them some time and the support chair and footstool which has been funded by Rotary was recommended by her physiotherapists to help reduce the swelling and boost her recovery.
Susan said: "I still feel in shock that we were there. It's hard when you remember what went on around you. We were really lucky that that doctor was there to help us."
Nigel, a retail manager who will not be returning to work until January, often finds it hard. He said: "Sometimes you can forget about it but at other times it comes in waves."
The bomber chose a packed Ariana Grande concert at which to make his attack. The singer performed at a fundraising tribute concert in June which Emily could have attended, but she chose not to because she is still coming to terms with the tragedy.
Dr Clark said: "This family has suffered a lot of trauma and we're delighted that we've been able to help by finding Rotary funding for the special chair, which was not available on the NHS."
19th October 2017
WOMEN'S LAND ARMY
As a young girl, Carol Davis's mother was plucked from a poor back-to-back house in Beeston to the fresh air and country sunshine as a Land Girl, one of the wartime Women's Land Army.
Last night Carol told us the story of her mother, Peggy, who volunteered for duty in April 1942 when she was sent to a hostel in a former orphanage near Ipswich to begin a new, if temporary, life of farm work.
Carol, who was supported by husband Bill, said: "I feel strongly that the story of the Land Girls shouldn't be forgotten."
She and Bill both came dressed for the part, with Bill, former head gardener at Woodhouse Grove School at Apperley Bridge, clad as a country worker. Carol, who is also retired, worked in the human resources department at the school.
With their 'Angels in the Fields' display, they are part of the Northern Forties Re-enactment Group, paying tribute to the Women's Land Army.
15th October 2017
DISTRICT 1040 CONFERENCE
Twenty club members attended the district conference at Scarborough last weekend, staying at the Weston Hotel. Honorary Rotarian Guy Cliff and Betty also put in an appearance on the Saturday.
Nick Castle was there and he has provided us with this report and a selection of photos: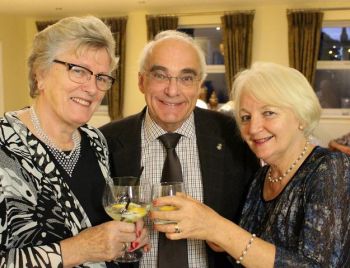 "Sixteen of us attended the black tie dinner in the Spa on the Friday night and we were entertained by comedian Tom O'Connor. The conference was opened next day by District Governor Robert Morphet and we listened to various speakers over the next two days.
"Notable were some Ukrainian children (15 years of age) who were on an exchange visit with the District (as the District has provided aid) and they performed for us by playing the piano and reciting poems in English and their own languages.
"We also heard RYLA candidates give their thoughts on their experiences on the course. We also listened to Yorkshire Rows (four working mums – although there only three were present) who rowed across the North Sea and hold the Guinness World record for women rowing 3,000 nautical miles across the Atlantic in the world's toughest rowing race. This was from La Gomera (part of the Canaries) to Antigua.
"Saturday night was spent having dinner in the Weston Hotel as a group and then the Spa entertained with a singing tenor and an Abba tribute act.
"The keynote speaker on Sunday morning was Chris Lubbe – www.chrislubbe.co.uk for more info. He is a South African and coloured (this is his description on his birth certificate which he showed and explained shaped the whole of his life during apartheid). He is a former bodyguard to Nelson Mandela and he told us a brief but fascinating story of his life with him, of apartheid and his imprisonment and torture."
The photo shows President Sheila Wainwright with Rotarians William Smith and Ann Roberts
12th October 2017
EX-TEACHER'S BOOK RECALLS HER DAYS AT EASTMOOR
Former teacher Kath Padgett, who now lives in retirement at Woolley, has poured her heart into her book, 'Are You Strong Lass?', her memoir of her days at Eastmoor High School in the early 1970s. But why that title for her book?
Speaking to the club tonight she explained that this was the question she was asked at her job interview. It didn't refer to her physical strength – the point was being made that a teacher's life at Eastmoor was a tough one.
Kath, who went on to spend 20 years at Eastmoor, said: "I was a teacher for a total of 47 years and I loved every minute of it… I wrote the book partly as a tribute to the kids."
The book covers the period 1970-73 and Kath said that in the course of writing it she was in touch with about 100 ex-pupils, 80 of whom later came to a reunion at the Greyhound pub in Wakefield.
A vote of thanks to Kath was proposed by Michael Townsend, To learn more about Kath and her book, go to http://www.scratchingshedpublishing.com/…/are-you-strong-l…/
28th September 2017
HEALING WOUNDS MAGGOT FASHION
How would you like a doctor recommending a cow dung poultice with maggots as a way of healing a wound? Makes you cringe doesn't it but old remedies like this may make a comeback if bugs continue to become increasingly resistant to antibiotics. Nettles, fungi and many herbal plants have been used in medicines for centuries.
Such was the prophesy of Ruth Nettleton when she spoke to a meeting of the Rotary Club of Wakefield. "When I was a little girl my grandmother would send me out into the fields in March to pick bunches of nettles" she said. "They were used to make a potion for cleansing the blood and they are full of iron." Ruth went on to say that there is a need to conduct more research into the antibodies present in the old fashioned remedies.
21st September 2017
DISTRICT GOVERNOR MEETS PADDINGTON BEAR, "STONE THE CROWS" AND ROTARIANS IN WAKEFIELD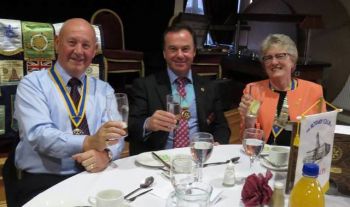 Robert Morphet, District Governor of Rotary District 1040, probably wondered what he had let himself in for when he visited a joint meeting of the Rotary Clubs of Wakefield and Wakefield Chantry. He was introduced to a Paddington Bear scarecrow complete with suitcase and a marmalade sandwich who was waiting to take part in a combined scarecrow and teddy bear parachute jump the following weekend.
There was also the task of naming a scarecrow beautifully made by Pauline Gallivan. The winning name was "Stone the Crows" correctly guessed by Rotarian Neil Dodgson from Chantry Wakefield. Altogether £80 was raised which will help fund Admiral Cats, perfect for soothing dementia sufferers.
Robert related that he makes his living in the funeral business and had the good fortune of marrying the boss's daughter! He still makes time to fit a hectic programme of Rotary activities in with his normal workload. To him three urgent issues in Rotary are increasing membership, even by establishing satellite groups; eradicating polio and improving the publicity of Rotary achievements.
Perhaps reflecting on his own work ethic he said "Everyone can give a little bit more because giving changes lives including our own."
The photo shows, from the left, Dick Wood President of Wakefield Chantry, District Governor Robert Morphet and Sheila Wainwright, President Rotary Club of Wakefield
14th September 2017
GAMBIA – WHERE SIX CHICKENS HELPED TO PAY FOR EDUCATION
When ill health forced Elaine Ripley to leave education she decided to stay six months of the year in Gambia where she had previously spent time on holiday. Living in basic accommodation in a village called Fula Kunda, she devoted her time to helping improve the local primary education. Poorly educated teachers, little educational support material, inadequate school buildings made Elaine's task almost daunting. Coming back to England in summer months, Elaine spent her time teaching primary school children about life in Gambia as well as seeking funds for improving facilities in the village.
She related a story about one boy whose parents could not afford his last year at school. She said " I asked him how much his remaining education would cost. He said six chickens. I felt I could trust the boy and so I bought them for him. When I returned he had finished his year at school and had raised many more chickens as well. The chickens had cost me just £10".
Today Elaine runs the Geedema Sweetwater Charity Project - Gambia and continues to raise funds for improving schooling and quality of life for the people living in this deprived Gambian village.
7th September 2017
FRIENDLY WORDS FROM 'DOWN UNDER'
At a club meeting, proceedings were enlivened by a spontaneous request from President Sheila Wainwright to her Australian guest, Colleen Antcliffe, to give a "job talk".
Without hesitation, Colleen told us about her retirement role as a volunteer presenter of a radio programme on a large community radio station near Sydney. She commented afterwards how she and her husband John had really enjoyed the warmth of welcome from members of the club and would always be delighted to welcome, in return, anyone who was in the vicinity of Sydney.
Looking forward to a third visit Sheila said that she will certainly take up that invitation.
31st August 2017
THE PRINCE'S TRUST HELPS DREAMS COME TRUE
In 1976 the Prince of Wales founded the Prince's Trust using his severance pay of £7.400 from the Royal Navy. Since then supported by many organisations and generous acts of charity it has helped over 825,000 disadvantaged people, particularly youngsters, in gaining self confidence, communications skills and business acumen. In doing so it has fostered over 125,000 entrepreneurs and given business support to 395,000 young people.
One such person is Jenny Watson who was introduced at a club meeting by Cassandra Hughes of the Prince's Trust. For many early years of her working life Jenny had drifted from one job to another not really caring for any. Then at the age of 28 she decided to take charge of her life and with the help of the Prince's Trust managed to start a career which meant something to her.
She said " For the first time I had a dream which came true and I have now found my vocation." Today using her skills as an artist Jenny helps run a programme called Mosaic based at Ossett Town Hall. Mosaic links young people with inspirational role models to help boost their confidence and long term employability.
10th August 2017
SAVING TEENAGERS FROM ADDICTION TO GAMBLING
Addiction to gambling can have devastating effects on personal and family life. Anne Evans, Past President of the Rotary Club of Doncaster St Georges, left no stone unturned when she spoke at our club meeting about the addiction of her son Alan. This started when he was a teenager and grew worse. Anne and her first husband could do little to cure him. Eventually he lost his own family, job, house, car, income and self respect. He died in utmost squalor.
Anne found that there was virtually no help available locally for gambling addicts and so she decided to do something about it. She enlisted the support of her local MP, Dame Rosie Winterton, together with the chief executives of gambling companies who were all most sympathetic and helpful. Considerable publicity followed on television and radio.
It was through Ladbrokes that Anne was introduced to Lee Willows, chief executive of the Young Gamblers Education Trust more commonly known as YGAM, its purpose being to educate young people about the potential risks that may arise from gambling.
Today the work of YGAM has blossomed and it provides a wide range of educational courses throughout the country and increasingly abroad. Anne and her second husband, Keith, work closely with it and are now Trustees.
Anne commented " I am very keen on helping Yorkshire as a whole and Doncaster where I live to have equally good access to help as some others in the south of England enjoy," She went on to say "I am very happy working with YGAM and enjoying the help of my husband and also my son and daughter in this. Our team at YGAM is brilliant and we make our meetings enjoyable and constructive and we meet wonderful people."
The interest of club members was reflected in the large number of questions asked. Neale Clark proposed the vote of thanks.
27th July 2017
A TOUGH LADY FOR SOME TOUGH PARTS OF THE WORLD
Marguerite Roy, rather disarmingly, described herself as someone who had 'never grown up' because so much of her life had been spent as a student. A modest claim from someone who had devoted ten years to UN peace-keeping missions in some very tough places but true to the extent that she returned to university again to embark on Middle Eastern and Isl
amic Studies at Leeds.

A Rotary Foundation scholar from America, she spoke to us tonight about her experiences in many parts of the world but particularly about Kosovo (where she became mayor in the regional administration of a hard-hit part of the country) and Afghanistan (where she administered the northern part of the country).

When she completes her dissertation at Leeds next month, she will be off to Jordan to study Arabic.

And what of the future? "I've done my best to make a difference abroad," she said, "I'd like to make a difference at home by going into politics."

In 2014 Marguerite returned to her alma mater at Misericordia University at Dallas, Pennsylvania, as a visiting professor in the Department of History and Government to develop international programmes and internships. For more about her fascinating life and experiences, go to
http://www.misericordia.edu/page.cfm?p=804.