July to September 2014
18th September 2014
DEMENTIA UK
SO FAR £26,000 has been raised towards the £31,000 needed to set up Wakefield's first Admiral Nurse to help dementia sufferers and their families, Wendy Weidner, Dementia UK's business development manager told this evening's club meeting.
And now a meeting has been tabled for October 7 with Steven Michael, chief executive of the South West Yorkshire Partnership NHS Foundation Trust to discuss Admiral Nurses in Wakefield. A number already work in the Kirklees district and in South Yorkshire. Dementia UK say that, as well as offering other benefits, the nurses save the NHS money by reducing unnecessary admissions to hospital.
Wendy reported that there are currently 126 Admiral Nurses in the UK, a 13 per cent increase since January this year. "By the end of 2015 there will be 200," she said, "They are specialist dementia nurses who work with the whole family, supporting carers and giving practical tips."
She was introduced by Dr Geri Parlby, a member of Tavistock Rotary Club, founder and chair of REPoD (Rotarians Easing Problems of Dementia). She explained the work that REPoD does, including setting up and supporting 60 Memory Cafes around the country. These offer informal drop-in sessions for people with dementia and their carers. Among other projects, REPoD has designed Memory Boxes. Geri explained: "These are filled with bits and pieces from earlier times which will trigger memories for those with dementia."
Wendy added: "It's amazing how much Rotarians do to help people with dementia and their families." At the end of the evening club president Stuart Livesey presented her with a cheque for £100 for Dementia UK. A vote of thanks to the speakers was proposed by Martin Perry.
Rotarian Sheila Wainwright, from the Wakefield Club, has been spearheading the fundraising campaign to get Wakefield its first dementia nurse and she has now been appointed Admiral Nurse Ambassador for REPoD.
PHOTO CAPTION Rotary Club president Stuart Livesey (left) with Wendy Weidner from Dementia UK, Dr Geri Parlby, and host Martin Perry
21st August 2014
Yorkshire cricket chief spells out club's plans
THE trophy cupboard is bare and we want to fill it up," Yorkshire County Cricket Club chief executive Mark Arthur told Rotarians at their meeting this evening. Hopes are riding high, he said: "We've not won anything since 2001, but this year we're in with a chance."
Despite the club's £23million deficit, Mark is buoyant about its future. Headingley is guaranteed international cricket until 2019 as part of a staging agreement with the ECB drawn up when the club bought its Headingley ground in 2005. After that, it will have to bid for games in three-year blocks which means there is the threat of losing Test status altogether.
Mark said: "Unless we get our act together by 2019, there'll be no more county cricket in Yorkshire." The club has to boost attendances and there are plans to improve the environment at Headingley to draw in the crowds.
Attendances are already up by 23 per cent and planning approval has been granted to install floodlighting which will mean next year's Friday T20 Matches will start at 7pm so spectators can avoid getting caught up in rush-hour delays. This is part of a plan that will see capacity increased through the £15million redevelopment of the Rugby Stand.
Mark added that the match experience also had to be enhanced for spectators. "We have a reputation for over-aggressive stewarding," he said, "That is being dealt with." He went on to pay tribute to the professional staff, both players and coaches: "They are a delight to work with. About 83-84 per cent of them are Yorkshire bred."
Mark, who has been in post for 16 months, is a former schoolboy and youth player for Surrey County Cricket Club. Originally a Marks and Spencer management trainee, he won a commercial post at Lords in 1990 where he introduced colour clothing for players ("My father never forgave me"), before moving to Trent Bridge and later becoming chief executive of Notts Forest FC for 13 years.
He is keen to promote Yorkshire cricket and he has already spoken to 17 Rotary clubs in the county.
PHOTO CAPTION:
Mark Arthur (centre) with club president Stuart Livesey and host Gordon Clarke.
18th July 2014
DICTIONARIES FOR SCHOOLS
Students leaving Sandal Magna Community Academy to go to secondary schools were presented with dictionaries by Wakefield Rotary Club president Stuart Livesey at Friday's end-of-term assembly. This is part of the club continuing programme to provide dictionaries to Year 6 pupils at some of the district's junior schools.
The 26 Sandal Magna students who received dictionaries will be moving to either St Thomas a Becket Secondary School in Sandal or to Kettlethorpe High School, where Stuart is a governor.
Also in the picture is club member Roland Mold, who has been a volunteer at the school for 11 years, first as part of a reading project but in more recent years as tutor of the school's chess team. He was presented with a thank-you gift at the assembly by headteacher Louise Sennett.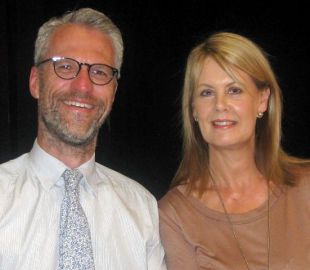 17th July 2014
ON THE day the BBC announced that hundreds of its journalists were to go in a cost-cutting shake-up, the club's speaker was veteran newsman Andrew Edwards, from BBC Radio Leeds. Despite the redundancies, Andrew remained confident about regional broadcasting with its grassroots coverage of communities. "I really care about what the BBC does locally and regionally," he said.
Two weeks earlier Andrew, who was brought up in Hull, celebrated 25 years with the BBC when he covered the Tour de France in Yorkshire. "It was an amazing experience watching this world event unfolding in front of you," he said.
He went on to recall some of his more memorable interviews, including prime ministers and other high ranking politicians, but he added: "It's ordinary folk who have some of the most inspiring stories to tell."
Andrew was thanked by his host for the evening, Rotarian Anita Holmes (pictured).
10th July 2014
ROYAL BRITISH LEGION
The Wakefield district last year raised more than £188,000 for the Poppy Appeal but a gap remains in the Royal British Legion's local coverage - it needs an organiser for the Crofton area.

Mia Senior, the Legion's community fundraiser in South and West Yorkshire, appealed for someone to fill the role when she spoke to the club tonight about the organisation's work helping those still serving in the armed forces, ex-servicemen and their families and dependants. Nobody stepped forward but Mia nevertheless went away with a cheque for £100, presented to her by club president Stuart Livesey.

If you can help in Crofton, call Mia on 07769 877443, or email her at msenior@britishlegion.org.uk. She is also looking for someone to who can drop off and pick up Poppy Day collecting tins in central Wakefield. The person currently working this area has mobility problems and needs some help.

Our picture shows Mia with club president Stuart Livesey (right) and host Ken Pinder.