July to September 2015
24th September 2015




Kevin Sharp, clerk to the West Yorkshire Lieutenancy, has had a busy year – 15 royal visits to the county so far and goodness knows how many diamond weddings and 100th birthdays. Information on these is passed to Buckingham Palace and the much-treasured cards from the Queen are duly sent off to the recipients.

Mr Sharp has been clerk to the lieutenancy for 15 years, following six years as head of West Yorkshire police VIP unit. He was speaker at the club's guest night at Sandal Rugby Club this evening when he described the organisation's structure with the Lord Lieutenant, Dr Ingrid Roscoe – the first woman to hold the post in the North of England – a vice lieutenant and 69 deputy lieutenants. He went on to recount a series of humorous stories about his contacts with members of the royal family, including the Queen herself.

PHOTO

Kevin Sharp (centre) with Rotary club president Michael Townsend and host Martin Perry




9th September 2015



KNOCKOUT BLOW AT STANDBRIDGE LANE!
Wakefield Rotary Club have been supporters of the refurbishment programme at the Standbridge Lane Community Centre from its earliest days.
A handful of members were among the visitors at the official opening today of Stan's Diner, the centre's new kitchen and community cafe, after which they were invited on a tour of the building by trustee, Councillor Monica Graham, who was also founder of the SCA.
Rotary club president and SCA member Michael Townsend used the opportunity to try out some of the kit at the boxing club - with some help from Monica. In fact, we expected her to be the one to deliver a knockout blow!




27th August 2015
BRIAN RECALLS CLUB'S MANY ACHIEVEMENTS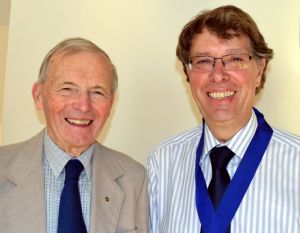 Retired veterinary surgeon Brian Lawrence, who joined our club in 1968, recalled its many achievements and past successes in his talk to members last night. Brian's work obliged him to once take a three-year break but apart from that he has served in the club continuously since the day he became a member.
He said: "I was impressed very much by the Rotarians I met after I was invited to join the club. There I was, in my 30s, talking to pe...ople in their 60s and 70s with knowledge and experience they were happy to share."
Brian is pictured (left) with club president Michael Townsend.
16th July 2015
HONOURS FOR MONICA AND STANDBRIDGE CENTRE TEAM

The club has bestowed two of the highest honours it can award – a Paul Harris Fellowship to Councillor Monica Graham for her work in setting up the Standbridge Community Centre, sometimes against the odds, and a Rotary International Certificate of Appreciation to the Standbridge Lane Community Development Trust (SLCDT) which worked with Monica and which runs the centre.
Our picture shows them receiving their awards at the New Brookhouse Club tonight from club president Michael Townsend: (from left) trustee Mark Roberts, SLCDT chair Oshione Ekpeh, Monica, and SLCDT treasurer Maureen Mortimer.
Making the awards, Michael said that as a result of Monica's drive and energy, the old Standbridge Primary School had been converted into a new centre: "The whole building has been transformed thanks in the main to the dedication of several trustees, willing volunteers and all those groups who have taken up the offer of the facilities. This includes new kitchens, a complete redecoration of the property, new showers etc.
"The large field at the back of the centre is to be used for the football team and for community events. There are also plans to open a community allotment to enable people to potter about in a garden of a size they can manage." He added that a new community café was almost ready to open.
Monica, a founder member of the SLCDT, said she was 'overwhelmed and a trifle embarrassed' by her award. She added: "Everything depends on teamwork and the team I have is absolutely marvellous." She thanked the club for its input at the centre, which included selling all the scrap metal from the building.
To find out more about what happens at the centre, go tohttp://slcdt.org.uk/
9th July 2015
ART HOUSE
Stuart Tulloch wants a change of name – something 'truly unique' – for Wakefield's Art House, where he has been artistic director and chief executive for the past six months. And he is drawing inspiration from the title of a local exhibition held in the city 150 years ago. He hopes that later this year the project in Drury Lane will become known as Wakefield Industrial and Fine Arts. Holding up a poster that had promoted the exhibition, he told members at their meeting last night: "I love the kind of Victorian spirit that encouraged people to take part."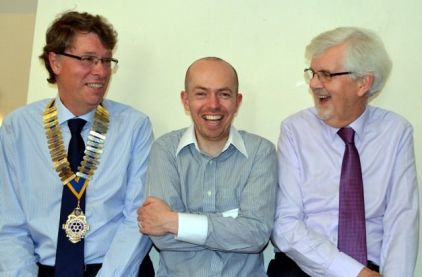 There are also exciting times ahead when the existing Art House building will link 'seamlessly' with the refurbished former library in Drury Lane. He described it as a beautiful building that will offer 24 studio spaces as well as a public area. "It will be like a mini Hepworth inside," he said. There will be a celebratory opening on September 24. For more information about this development, go to http://www.the-arthouse.org.uk/about/drurylanelibraryconversion.
The Art House was established in 1994 to provide studio space accessible to disabled artists. Construction began in February 2007 on a new building, which included meeting rooms, community spaces and an office for the Art House team. It opened in 2008 with studios occupied by both disabled and non-disabled artists.
Our picture shows Stuart (centre) with club president Michael Townsend (left) and Roger Brown who proposed a vote of thanks.
2nd July 2015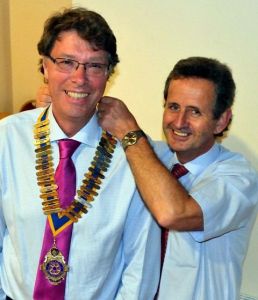 MICHAEL WILL BE A GEM OF A PRESIDENT!

Jeweller Michael Townsend was tonight installed as the club's president for 2015-16, taking over the baton from Stuart Livesey, who is pictured (right) as he completes the handover.
Michael, who has been a member for 18 years, is the club's 95th president. In his opening remarks he recalled many of the club's successful projects of the past, especially those in the local community. He touched on a number of international issues, including refugees. "Rotary needs to embrace all these problems," he said.
The project to eliminate polio from the world, strongly supported by the club, has been one of the Rotary movement's big achievements, he said. Now that 99 per cent of the world's population lives in regions certified polio-free, the goal of total eradication is closer than ever.