July to December 2016
3rd November 2016
BUMPER CHEQUE FOR CHILDREN'S HOSPICE
It was another exciting night for Scamp, Sandal Community Association's skydiving teddy, when he presented £400 to Nicky Fox, community fundraiser for the Forget Me Not Children's Hospice. Scamp even got into the Christmas spirit with a festive collar!
He took SCA chairman Les Goddard with him (second from left) and they are pictured here handing over a bumper cheque to Nicky at Wakefield Rotary Club's meeting at the New Brookhouse Club at Busy Corner. The cheque was for £700, to include £300 raised by the Rotary club at its Teddy Bears' Parachute Jump in September.
Scamp's skydive raised a total of £800, shared equally between the Forget Me Not hospice and Wakefield Hospice.
27th September 2016
DISTRICT GOVERNOR TALKS ABOUT VALUE OF YOUTH LEADERSHIP AWARDS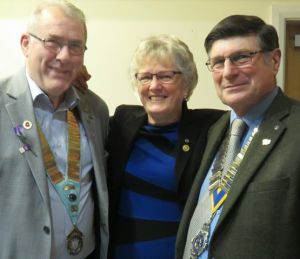 He joined Rotary in 1991 because of its work in initiating the world-wide project to eliminate polio, but Phillip Poole, District Governor of District 1040, now enthuses over the importance of Rotaract in helping to attract young people into Rotary.
He was speaking at tonight's club meeting when he talked in particular about the value of the Rotary Youth Leadership Awards (RYLA).
He said: "It is amazing to see how the training helps to enhance the confidence, assertiveness and self esteem of so many young people, which stands them in good stead for the rest of their lives."
Phillip is pictured here with club president Neale Clarke and president-elect Sheila Wainwright
29th September 2016
The story of the City of London Livery Companies was told by a Rotarian who belongs to one of the youngest of them, the Worshipful Company of Educators. Dr Geoff Tabbron spent 25 years teaching at Bolton Institute – now a university – making him the longest serving academic in its history. He later saw several parts of the world working for UNESCO for five years.
The Worshipful Company of Educators, founded in 2001, was the 109th Livery Company to be granted this status by the City of London. The earliest known company is the Weavers which dates back to 1155. Half the companies are several centuries younger, tracing their short histories back to 1945 or later, said Geoff.
He also explained the role and benefits of the Freemen of the City of London. From the Middle Ages and during the Victorian era, the Freedom was the right to trade, enabling members of a Guild or Livery to carry out their trade or craft in the Square Mile. In 1835, the Freedom was widened to incorporate not just members of Livery Companies but also people living or working in the City or those with a strong London connection.
A vote of thanks was proposed by Richard Taylor