TEDDY BEAR PARACHUTE JUMP
Information for entrants
Entry is via the PayPal "Buy Now" button on the Teddy Bear Parachute Jump Home page. Your entry will be acknowledged and you will receive a sponsorship form by email attachment. Whilst entrants may sponsor a charity of their choice the preferred sponsorship is the the Forget Me Not Children's Hospice.
You may pay the entry fee using any credit or debit card or by using your PalPal account. Flyers distributed in the district will have an entry form on the reverse but using the on-line option is preferred. If you would like to enter by post please contact Peter on 07710 699068.
The entry fee is £3 per bear if booked in advance. On the day entries are £5.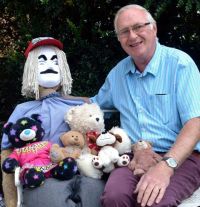 All bears will jump from a 100 ft extending ladder provided and manned by West Yorkshire Fire & Rescue Service, Wakefield.
Soft toys other than bears can also jump
You might want to dress or distinguish your bear so that you can spot him as he floats down
Ideally those jumping should be between 10 cm and 30 cm tall. A little taller may be OK.
Parachutes will be supplied by the organisers
It would help the organisers if bears had labels pinned to them with their names, that of the owner and a mobile telephone number.
Data protection note: no personal details will be divulged to other parties
The Rotary Club of Wakefield can accept no responsibility for damage to bears or other soft toys
In the event of bad weather, breakdown or the need for the fire-fighters to leave the scene in an emergency there will be contingency arrangements and these will be published nearer to the time of the event.
The Rotary Club of Wakefield and the press, will be taking photographs for publicity purposes. If anyone does not wish for their child's photograph to be taken under these circumstances please speak to the organisers on the day.


ON THE DAY
Bears need to arrive in good time for their requested slot to allow time for handing in sponsorship money and for parachutes to be attached
Sponsorship money and sponsorship forms need to be handed in before parachutes are attached
After landing all bears will be retrieved by the organisers and taken to the recovery tent for you to collect
There will be prizes for bears landing nearest the target
All bears or other entrants will receive a bravery certificate
LATE ENTRIES
It may be possible to accept entries on the day of the event if space is still available. No guarantee can be given of this or that a time slot of your choice will be free. We will do all we can to help. Entries on the day will be £5.